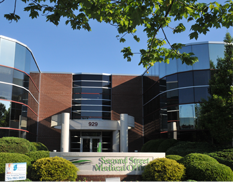 Albemarle (March 8, 2011)-
Southeast Pain and Spine Care (SEPC), a division of the national medical group American Anesthesiology, is partnering with Stanly Regional Medical Center to open a new location on the hospital campus located at 301 Yadkin Street. SEPSC will begin accepting new patients on March 7th, in anticipation of their March 15 opening.
Founded in Charlotte in 1997, Southeast Pain and Spine Care treats a wide variety of patients' pain needs – from back pain to diabetic neuropathy using interventional pain techniques. The goal of interventional pain management is to provide patients with non-surgical options, while simultaneously decreasing and/or eliminating the amount of pain medication necessary to control their pain. Some examples of interventional pain techniques include: injections, nerve blocks, radiofrequency and spinal cord stimulators. The Stanly County location is the organization's 13th location in the Southeast.
"Stanly Regional Medical Center has been working to add pain management to our services for quite some time. Southeast Pain and Spine Care's interventional pain techniques and additional training make them a perfect partner for this valuable physician service," said Brad Marino, Vice President, Physician Network & Surgical Services at Stanly Regional.
"I'm excited to be a part of the team opening this center in Stanly County with Stanly Regional Medical Center," said Dr. Richard Brian Thoma, who will be working at the new location. "We are bringing a much-needed service to this community."
All Southeast Pain and Spine Care physicians are fellowship trained in pain management as well as double board certified/eligible in anesthesiology/neurology and pain management. Southeast Pain and Spine Care accepts self-referrals for patients suffering from the following types of pain: neck, back arm, leg, sciatica; nerve, headaches, migraines; CRPS (or RSD); arthritis, post-surgical, failed back surgery; fibromyalgia and shingles. Patients suffering from other conditions must be referred by a physician. To learn more, call (704)-983-0081 or visitwww.sepaincare.com.
ABOUT Southeast Pain and Spine Care
Southeast Pain and Spine Care treats patients with a wide range of pain conditions, including acute pain from back injury, headaches and pain resulting from accidents, injuries or disease processes, such as diabetes. Physicians and staff at Southeast Pain and Spine Care provide patients with custom, multi-faceted treatment plans for addressing pain. On the web atwww.sepaincare.com
ABOUT AMERICAN ANESTHESIOLOGY
American Anesthesiology has more than 650 anesthesia providers, including more than 300 physicians and 350 CRNAs and anesthesia assistants practicing in five metropolitan areas in the Carolinas, Virginia and Georgia, with administrative offices in Raleigh, NC, and Sunrise, FL.
ABOUT STANLY REGIONAL MEDICAL CENTER
For 60 years, Stanly Regional Medical Center has distinguished itself as the region's premier not-for-profit healthcare provider. Stanly Regional has emerged as a state-of-the-art medical center with a growing number of patients seeking the medical center's unique blend of expertise and personal attention. Accredited by the Joint Commission, Stanly Regional is governed by a volunteer board of directors representing both Stanly and Montgomery counties. Its main campus is a 119-bed medical facility consisting of 97 general acute beds, 10 rehabilitation beds and 12 behavioral health beds. With a staff of healthcare professionals using the latest medical treatments and technology, Stanly Regional offers advancements in cancer treatment, imaging, rehabilitation, women's services and more. For more information, visitwww.stanly.org.