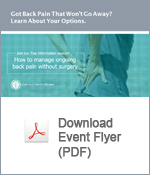 What: Non-Surgical Options for Treating Chronic Back Pain
If you or a loved one lives with constant back pain, you may be searching for ways to get relief without undergoing surgery.
Join two of the area's leading pain management experts at our FREE seminar to learn about the latest non-surgical options for relieving persistent back pain. An interactive Q&A session will follow.
When: Thursday, May 18, 2017 at 5:30 p.m.
Light refreshments will be served.
Where: Carolinas Medical Center-Mercy Auditorium 2001 Vail Ave., Charlotte, NC 28207
Parking is available to the right of the hospital.
Seating is limited! Please register by May 15 to Mary.Loftinhayes@CarolinasHealthCare.org.
For more information, call 704-512-5233.