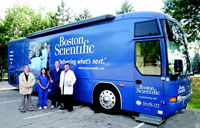 September is Pain Awareness Month
WHO:Southeast Pain and Spine Care and Boston Scientific
WHAT:The Boston Scientific "STIM Lab Mobile Simulator System" is coming to Charlotte! The large, mobile unit is coming to town to provide, risk-free, hands-on training for pain physicians and to help raise awareness of the millions of Americans who suffer from chronic pain. (STIM stands for Spinal cord stimulation Training and Instructional Mobile Lab.)
WHEN:11 a.m. until 7 p.m., Thursday, Sept. 10
WHERE:corner of Kenilworth and Park (in the parking lot)
WHY:The purpose of this bus is risk-free, hands-on training that allows pain physicians to experience realistic, simulated cases for new products and advanced techniques. The bus stops at hospitals with fellowship programs in pain management.
Spinal cord stimulation is a drug-free treatment of chronic neuropathic pain.
MORE INFO:The bus will be stopping in over 100 cities – one city a day – until December 18. The tour began in July. Hundreds of physicians have already been on the bus.
ABOUT Southeast Pain and Spine Care
Southeast Pain and Spine Care treats patients with a wide range of pain conditions, including acute pain from back injury, headaches and pain resulting from accidents or injuries or disease processes, such as diabetes. Physicians and staff at Southeast Pain and Spine Care provide patients with custom-tailored, multi-faceted treatment plans for addressing pain. On the Web atwww.sepaincare.com.