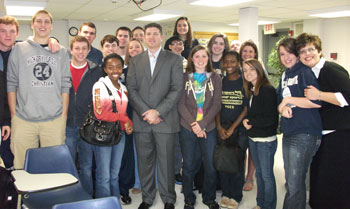 Charlotte, NC – Dr. Robert J. Sullivan, a physician with Southeast Pain and Spine Care, recently spoke to a group of Advanced Placement Anatomy and Physiology students at Hickory Grove Baptist Church School about the nervous system and careers in medicine. The seminar was organized by the Carolinas Medical Center-University Community Investment Foundation.
Dr. Sullivan is board certified in anesthesiology and pain management. Southeast Pain and Spine Care treats patients with a wide range of pain conditions, including acute pain from back injury, headaches and pain resulting from accidents or injuries or disease processes, such as diabetes. The practice is part of Southeast Anesthesiology Consultants, an 80+ physician anesthesia and pain management practice serving more than 100,000 anesthesia and more than 45,000 pain management patients each year at seven hospitals, two surgery centers and ten pain management clinics in the Carolinas.
The CMC-University Community Investment Foundation, a 501 (c) (3) charitable organization supported and managed by the Carolinas HealthCare Foundation, is charged with the responsibility of ensuring a continuous connection between the hospital and the community in which it serves by providing ongoing benefits and services to the community.